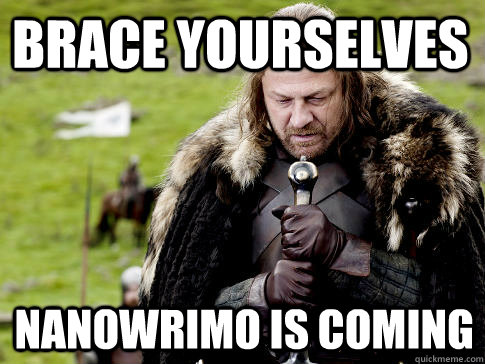 November is coming, which means that my friends will be engrossed with NaNoWriMo (National Novel Writing Month). Although I think sometime this year I may or may not have muttered under my breath something about trying as well, I think it's just best for me to stick to good old blogging, which means that once again, this year I will be doing NaBloPoMo (national blog posting month) with BlogHer and blogging every day in November.
It was great last year as it pushed me to write about things that I don't usually write about and although I don't do makeup posts any more, it'll be nice to see what my blog will become in November.
You may have also noticed that I'm playing around with PhotoShop as well. I got it a few weeks ago and take time out every week to just mess around with it, while googling how to do stuff (or, more likely, bugging people on Facebook to tell me). Blogging every day will give me more of a chance to use things I've created…even though they will probably be very naff for a while yet. But I'll get there!
I met so many awesome bloggers last November, I can't wait to get stuck in and meet even more people!